Asian Noodle Soup | Alkaline Cleanse Recipe
As you can see this Asian Noodle Soup looks absolutely scrumptious. This soup is also great option for those on an Alkaline Diet or Alkaline Cleanse. If you love Asian dishes, this soup will not disappoint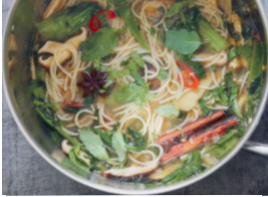 . The mouthwatering recipe gives off a wonderful aroma, and also has cleansing properties. A hint of cinnamon coupled with star anise provides delectable base flavors in addition it's antiviral qualities. Below is a step by step recipe for making this yummy alkaline cleanse recipe that serves 2 people. I'm sure you will enjoy this soup just as much as we did!
Asian Noodle Soup | Ingredients:
1 tbsp coconut oil
1/2 white onion, finley chopped
1 clove garlic, grated
2 x 1 in. (2.5 cm) slices (5 cm) piece of ginger slices
3/4 in. (3 g) cinnamon sitck
1 star anise
1 tbsp coriander seeds
6 tbsp cold water
1 tbsp tamari
1/2 cup (10 g) Chinese celery, roughly chopped
1 heaping tbsp (3 g) sweet Thai basil
3 cups 9720 ml) boiling water
1 tbsp bouillon powder
3/4 cup (50 g) snow peas
1 1/2 cups (100 g) bok choy
3/4 cup (60 g) shiitake mushrooms, slides
1/3 cup (5 g) fresh cilantro, roughly chopped
1/3 cup (50 g) rice noodles
juice of 1 line
1/3 cup (50 g) tempeh, cut into strips, to garnish
6 thin slices of red chili pepper, sliced at an angle (optional)
Cooking Directions:
Heat the coconut oil in a frying or sauce pan and add the onion, garlic, ginger, star anise, cinnamon & coriander seeds. Sauté over medium heat for 2 minutes.
Add the cold water (not the measured boiling water) and the tamari, & simmer for another minute. Stir in the Chinese celery & sweet basil.
Add the boiling water to the pan along with the bouillon, stir & leave until the liquid has reached boiling point again.
Meanwhile, chop the snow peas on the diagonal & slice the root off the bok choy so that the leaves are released. Add to the pan along with the shiitake mushroom and half of the chopped cilantro. After 1 minute, add the rice noodles & cook for another 3-4 minutes until they are done.
Finish off the soup by squeezing the lime juice over the top and stir through w/ the tempeh, the remaining cilantro & the slices of chili.