No-Grain Kale Bread | Alkaline Diet Cleanse Recipe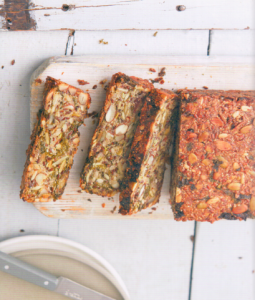 This No-Grain Kale Bread alkaline diet cleanse recipe will get you in touch with your inner baker! This bread recipe is rich and tasty and a wonderful option for those on an Alkaline Diet or Alkaline Cleanse. If you love kale and are looking for a bread recipe with a no-grain alternative, we've got you covered! This No-Grain Kale Bread is easy to make using the recipe below. This kale bread tastes amazing straight from the oven. But it can also be sliced and frozen, so that you can enjoy a toasted piece right from the freezer.  Below is a step by step recipe for baking this yummy alkaline cleanse recipe that makes 1 loaf. Give this No-Grain Kale Bread a try…. we bet you'll love it!
No-Grain Kale Bread | Ingredients:
4 tbsp of melted coconut oil, plus 1 tsp for wilting & extra greasing
1/2 cups (350 ml) water
1 tbsp brown rice syrup
1 1/2 cups (100 g) kale, finely chopped
1/3 cup (45 g) sunflower seeds
1/2 cup (85 g) flaxseed
3/4 cup (125 g) almonds, toasted & roughly chopped
1 cup (100 g) quinoa flakes
2 tbsp (25 g) chia seeds
3 tbsp psyllium husk powder
1/2 tsp salt
1/2 cup (70 g) pumpkin seeds
14 tbsp coconut flour
Baking Directions:
Place the coconut oil in a cup with the water and the brown rice syrup.
Sauté the kale in a saucepan/frying pan over medium heat with 1 teaspoon of the coconut oil for 2-3 minutes until softened.
Transfer the kale to a mixing bowl. Then add the rest of the ingredients & mix well.
Pour the cup of coconut oil & brown rice syrup into the bowl and mix to form a thick dough.
Grease a 9 x 5 x 3 inch (1 kg) loaf pan with melted coconut butter oil and pack the dough into the pan. Set aside for 1-2 hours to let settle.
Preheat the oven to 325 °F/170°C gas mark 3.
Bake the loaf for about 50 minutes.
Remove loaf from the pan and return it to the oven for another 15-20 minutes until it's golden brown all over.
Cool on a wire rack before slicing.