Cauliflower & Coconut Tart | Alkaline Diet Recipe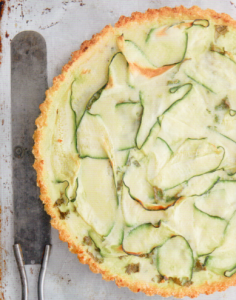 This cauliflower & coconut tart recipe is to die for!  It's rich and tasty and a great option for those on an Alkaline Cleanse / Alkaline Diet. If you love cauliflower and coconut, you are in for a real treat with this recipe. It's sure to be a hit at any dinner table and is also a great recipe for guest dinner parties or gatherings. If executed properly, the crust will have a bread-like texture, so one slice can be super filling. If you don't have or like coconut cream, you can use any dairy-free milk alternative instead. Below is a step by step recipe for baking this decadent alkaline cleanse recipe. Give it a try! We know you'll love this cauliflower & coconut tart!
Cauliflower & Coconut Tart | Ingredients:
2 eggs
2/3 cup (160 ml) coconut cream
1/4 tsp Himalayan pink salt
1/2 cup chopped (30 g) kale
Juice of 1/2 lemon
1/2 zucchini, sliced into ribbons
For The Pastry:
3 cups (300 g) cauliflower, broken into florets
3/4 cup (75 g) ground almonds
3 healthy gratings of nutmeg
finely grant zest of 1/2 lemon
a pinch of Himalayan pink salt
1 egg
Baking Directions:
Preheat the oven to 325 °F/170°C gas mark 3 & line a 9 inch pan with parchment paper.
First make the pastry. Put the cauliflower florets in a food processor or blender & blend until they look a bit like grains of rice. You can also chop them by hand as finely as possible.
Transfer the blended/chopped cauliflower to a bowl and add the nutmeg, ground almonds, lemon zest, salt & the egg.
Mix the ingredients well until a dough forms.
Press the mixture into the prepared tart pan, also pressing up the sides then bake in the preheated oven for 15 minutes.
During that time, massage the kale with the lemon juice until you see it wilt. The set it aside.
To make the filling, beat together the eggs, coconut cream and salt until smooth & evenly mixed.
Once the pastry is out of the preheated oven, arrange a layer kale in the bottom.
Cover up the zucchini ribbons, then pour the egg & coconut mixture on top.
Finally, return it to the oven for another 20 minutes or so until it's cooked through.