Why Use Alkaline Concentrates?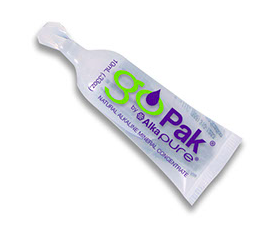 Have you ever thought about using alkaline concentrate drops? Your body will function more efficiently when its alkaline pH balanced. An unhealthy diet, stress and a lack of exercise can all contribute to an improper pH balance. Eating fried foods, red meat & carbs only add to this issue.
Drinking alkaline water and/or reducing the alkalinity of the foods and liquids you intake can help to better regulate your body's pH levels. Most people today don't consume a diet high in nutrient-dense, mineral-rich food. Instead, they reach for pre-packaged meals, fast food, artificially colored/flavored/sweetened beverages and many other unhealthy choices. Alkaline concentrate drops offer a convenient and versatile option to curb this problem.
Alka-Pure alkaline concentrate drops come in a portable "Go-Pak" and can be added beverages such as drinking water, coffee, tea, juice, sodas, wine and more.
The Benefits of Alkaline Concentrate Drops Include:
Convenient On-the-go Option (Great for gym, work & travel)
Can Add to Almost Any Liquid
Lowers Acidity of Beverages
Adds Essential Electrolyte Minerals
Adding alkaline drops to your drinking water or beverages in general will help your body fight the alkalinity battle and aid in healthier living. Alka-Pure's alkaline concentrate drops instantly create alkaline-rich, 9-10 pH water. This alkalizing concentrate can be added to ANY beverage to reduce its acidity, plus it adds five essential electrolyte minerals. Alkaline drops are a relatively inexpensive way way to make alkaline water as well as live an alkaline lifestyle. Take control of your body's pH health today.
Click Here or the image below to learn more about Alka-Pure's concentrated alkaline Go-Paks.